Website for the Parish of Wick and Abson with links to the South Gloucestershire Council website 

for additional news
Click here <SGC Assistance Website>
 ———-//——— 

Wick and Abson Parish Council
PARISH COUNCIL MEETING
To be announced
7.15pm at WICK VILLAGE HALL
Please Click the following Link for the Agenda
———//———
NEW WAITING RESTRICTIONS
Please click following links to see details
T435-108-014B TRO PLAN – Existing
T435-108-016B TRO PLAN – Existing
T435-121-02B PROPOSED RESTRICTIONS
T435-121-03B PROPOSED RESTRICTIONS
———//———
NEW
Rev Tim  Bell – Christmas Wreaths and Celebrations in Church
Hi Everyone
I would like to support Suzy's email inviting your groups to make Christmas wreaths that represent your group to be displayed in church.
We love having the community involved each year in the theme chosen for Christmas in our church.
We would also like to give you a warm invitation to our Christmas services.
Dec 5th 10am Christmas All Together service (we start with coffee and biscuits and craft activities followed by a relaxed style service)
Dec 19th 10am Carol service
Dec 24th 3pm Christmas Eve Crib service. (We have costumes for children to dress up as angels, shepherds etc. The nativity figures are brought to the front to make the nativity scene while the story is told).
Dec 25th 11am Christmas Day short family service. 
I wish you all a very Happy Christmas.
Tim
———//———
WEST OF ENGLAND SUPPORTED BUS SERVICES SURVEY

Please answer as many questions as you like and drop me in the
feedback box provided. Alternatively, complete this survey online,
or post this form to our Freepost address.
Postal address (no stamp required):
FREEPOST
WECA CONSULTATION
Introduction
The West of England Combined Authority provides support to several bus services, we call
these supported bus services. These services operate under contract to the authority and
as part of a review we want to gain the views of our existing passengers and potential new
passengers.
We would like your views on how supported bus services can be improved, what would
encourage you to use bus services more often and what they will look like in the future.
This survey runs from 18 October – 28 November 2021.

Please click the following link for more information on how to complete this survey
BG1420 WECA Bus Consultation_FINAL
———//———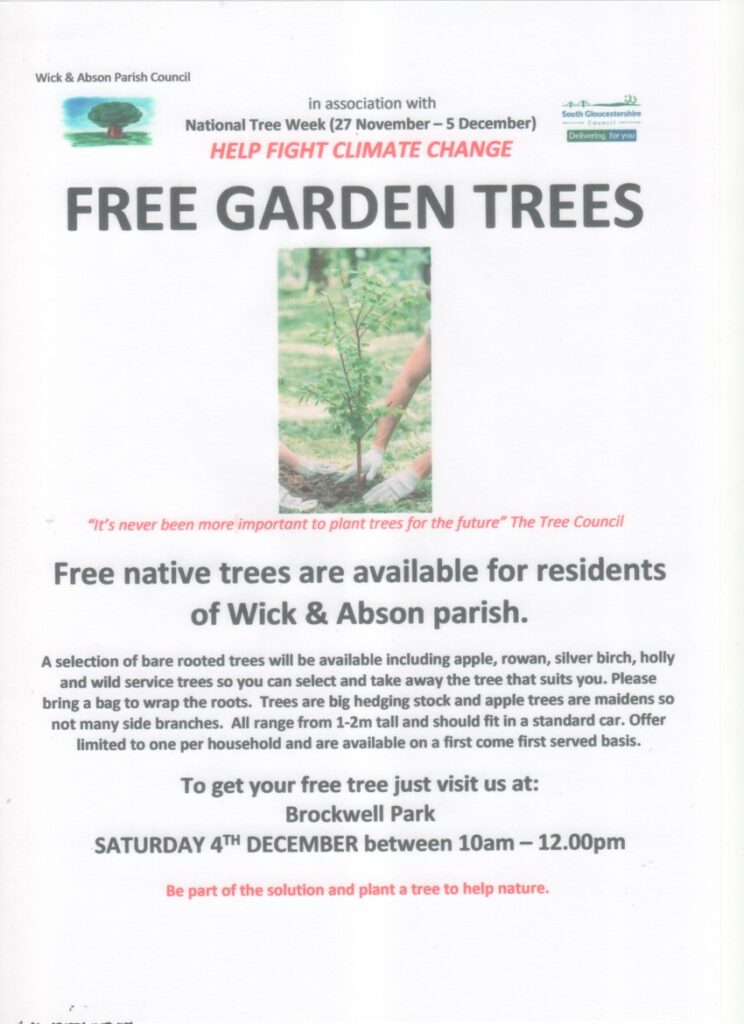 ———//———
Bus Time Table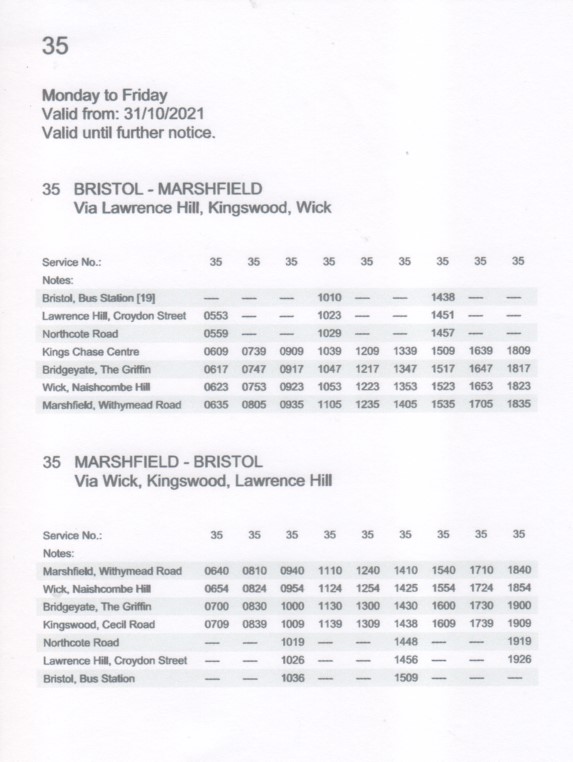 ———//———
Doynton Half Marathon
Key points about Doynton Half Marathon 2022
– Date: Sunday 23rd January 2022
– Route: exactly the same as last time (see attached map)
– Approvals: Risk Assessment (inc. Covid Risk Assessment) currently with South Glos Council who distribute to other authorities via the Safety Advisory Group (SAG).
– Entries open for sale: October 2021 (date tbc, ideally mid October).
Wrt: Wick/Abson specific. MJ Church have once again kindly given permission for us to use their land as a temporary car park (I will also liaise with Cemex to ask for the same). We will use mini-buses to transfer runners from Wick Quarry to Doynton. I have an idea to reduce the number of cars using the car park by incentivising local running clubs to offer car shares (good for the environment too). 
wrt: the raffle. I'm keen to source items for the raffle from local producers / people is there a community market or a local shop that stocks locally produced goods? are there any people making things for charities / good causes that I could get in touch with?
With thanks etc. etc
Andrew (DHHM Race Organiser (07975912829)
———//———