Stuart Fowell (Chair)
Stuart is married and originally from Middlesborough. He was educated at York University. He moved to the West Country in 1998 and settled in Wick in 2008, starting out as computer programmer and is now a technical manager at a company located in Bath.
Contact: < stufowell@hotmail.com >
Peter Crew (Vice Chair)
Contact: < pgcrew@hotmail.com > 
Malcolm Watson
Malcolm is a retired university lecturer and has been an elected member of PC since 2011.
Currently, Malcolm is chair of the S Glos Town & Parish Councils' Forum, Secretary of S Glos Area Group of the Avon Local Councils' Association (ALCA), Member of ALCA County Committee, ALCA Training Lead, ALCA Representative on the S Glos Local Strategic Partnership, the S Glos Safer Stronger Communities Partnership, the S Glos Compact Implementation Group, the S Glos Prevent Steering Group and Vice chair of the Boyd Valley Safer Stronger Community Group.
Contact: < m@malcolmwatson.me.uk >   Phone: 07774 199862
Simon Alway
Simon is a member of the planning and the Neighbourhood Plan sub-committees.
Contact: < simon.alway@outlook.com >
Bronwen Dyson
Contact: < bronwendyson@yahoo.co.uk >   Phone: 0117 937 4142
Gaive Golding
Gaive is a member of the Neighbourhood Plan sub-committee.
Contact: < ggolding@wickabsonpcgov.uk > 
Keith Hollister
Keith has lived in the village for over 20 years, brought up 2 kids and is now an empty nester. Still owning/running a small design company, he has time to get involved.
Keith acts as representative on the Wick Sports Ground committee, sits on the planning sub-committee, helps look after the Village Hall as bookings secretary and is responsible for checking the 3 defibrillators that are funded by the Parish Council to ensure they are always 'emergency ready.'
Contact: < keith@hollisterdesign.co.uk >   Mobile: 07966 213447
Richard Stallard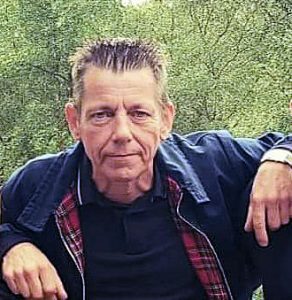 Peter R Stallard more commonly known as Richard has lived in the village since 1977. Richard operates his own building and property maintenance business from the village, is a well-known local character, a passionate local historian, keen amateur photographer and organiser of community events.
Contact: mr.richstallard@gmail.com   Mobile: 07795 384069
James Williams
James lives in Wick and has family living locally. He is a retired harbourmaster and former brewery estate manager. He has a keen interest in the planning process, protecting the countryside and campaigns to stop water treatment companies discharging raw sewage into our rivers and seas.
He leads the Adopt-a-Street litter picking scheme and sits on the Neighbourhood Plan sub-committee.
Contact:  jpw53@hotmail.com   Mobile: 07879 061 847
Joanne Bray-Warner (Parish Clerk)
Contact:< wickabson_parishcouncil@yahoo.co.uk >